College Summer Staff
Build leadership skills and invest in the lives of children.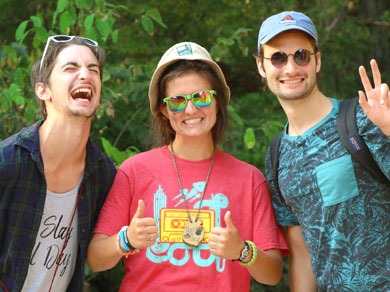 Camp Tilikum is looking for 20 dedicated young adults to serve at camp for Summer 2022! As Summer Staff you will spend each day showing the love of Jesus to kids and teaching them about their Creator as you hike the hills, swim in the lake, and play (you might even say frolic) in the fields alongside your peers. A summer at Tilikum offers an incredible experience that will push you toward deeper communion with God and others, and also add some valuable skills to your repertoire such as goat herding, canoe rescue, and group management… just to name a few.
We hope to see you there!
Which program fits you best?
Day Camp Staff
Day Camp is a program for children entering 1st – 6th grades. Each week, Day Camp Staff are responsible for teaching and supervising a variety of program activities such as archery, Bible discussions, canoeing, swimming, the Big Swing, nature hikes, crafts, and more!
Applicants must be 18 years or older and at least one year out of High School to work as Day Camp staff.
Fill out the online application.
Adventure Program Staff
Adventure Program staff are responsible for facilitating two programs: QUEST (grades 6-8), and High Adventure Camp (grades 8-12). Campers develop their relational skills and deepen their faith through facilitated activities on the Challenge Course. Each Adventure Program Staff member will be trained as a Challenge Course Facilitator and have an opportunity to lead Bible discussions, games, and other activities.
Applicants must be 20 years of age and at least two years out of high school to work as Adventure Program staff.
Interested? Fill out the online application.
Summer Salary and Housing
First Year Staff – $2,800
Returning staff – $3,000
Lifeguards earn an additional $200
Housing is provided by Camp Tilikum
Summer salaries are distributed over 3 monthly payments during the summer program. Tilikum Summer Staff are expected to be present for the entire program. Scheduling conflicts are accommodated on a case-by-case basis and must be negotiated before hire.
Detailed job descriptions
Support Staff (returning staff preferred)
Tilikum Day Camp Program Staff
Tilikum Adventure Program (TAP) Staff
Want more information?
Email Rommie Christiansen/Camp Program Director, or call Rommie at (503) 538-2763 ext.106.
College Summer Staff
Interested in working on College Summer Staff? Click the button below to fill out an application.
See a gallery and list of former Summer Staff.