Dining at Camp Tilikum
Creating space for friends to gather.
​We understand how important great food is for your visit. At Tilikum you will enjoy delicious entrees and accompanying side dishes, freshly baked breads and tasty desserts, pleasing to the eye and tasty to the palate. Wholesome meals are prepared from scratch with local, fresh, seasonal ingredients, and usually served family-style. Tilikum offers a quality food service difficult to attain at larger camps and conference centers.
Some details
If an individual has a medical diet need which requires a completely separate option, our hosts will either deliver it directly to the guest at the table or will have it set on a designated sideboard with the items clearly marked. These requests must be made in advance to allow for the cooks to shop for and prepare a separate dish. There is a $1 additional charge per meal to cover the cost of special ingredients and the extra labor to prepare a separate meal.
Alternative menu options must be requested in advance. If a group requests an entirely alternate menu, such as vegetarian or Lent-observant or kosher or nut-free, there is no additional charge.
​A microwave, toaster oven, and mini-fridge are available in the dining room for guest use. The mini-fridge is stocked with non-dairy milks and creamers for those who like them. There is always a fresh fruit basket available. Coffee, decaf, tea, and our house-made hot cocoa mix are available 24/7. Chilled cans of soda and juices are also available for purchase in the dining room.
A list of ingredients for each dish are available from your host. And recipes are available upon request—we are happy to share them with home cooks. To purchase a Tilikum Cookbook email Suzanne Maki/Guest Services Director.
Disclaimer:  Camp Tilikum is not a dedicated allergy-free facility, though we are careful to prepare medical diet dishes as free from cross-contamination as possible. Appliances and utensils are thoroughly cleaned after they have been used for wheat, nuts or dairy. But even with these precautions, cross-contamination is possible. Guests with life-threatening allergies should carry their own epi-pens.
Served meals
All breakfasts include eggs, a breakfast meat, a pastry or coffee cake, fruit, hot cereal, and juice.
Lunch in the dining room almost always includes a hot dish, either soup or a hot sandwich or hot meat for burritos or rice bowls, salads, freshly made lemonade or iced tea, and our fresh homemade cookies.
The kitchen is happy to cater lunches up to the Challenge Course. We can cater a hot meal like a burrito buffet or lunch casserole to help counter a cold or rainy team-building experience, but when the weather is hot, most groups prefer a cold box lunch, with a hearty sandwich or wrap, fruit, vegetable, chips, and homemade cookies.
Dinners include a freshly seasoned protein, a starch (rice, potatoes, or pasta), hot veggies, tossed salads, and freshly baked bread. Most desserts are prepared from local produce, so our fruit crisp may have Marionberries, Fuji apples, Veteran peaches, or other seasonal finds from neighboring farms.
Frequently asked questions
Q: Can I bring my own food?
A: That depends. We do not have a kitchen for use by the public, but we can set your group up with an 8 foot table for your snacks.For individuals with complex dietary needs there is a mini-frige, microwave, and toaster oven at all times in the dining room. There is also a red toaster for guests, reserved for gluten-free toasting.
Q: How is food served?
A: In the Dining Room, 6-8 guests per round table. Food is served family-style with occasional exceptions. Alongside a full breakfast, there is a cereal buffet with both hot and cold cereals. The granola on the cereal bar is made from scratch in the kitchen.
Q: What if I need to be late to a meal?
A: Meal times on your contract are serving times, not a window. Food on the table or buffet remains until your group has finished eating, typically about an hour. If you notify your group leader, a plate can be assembled and set aside in the dining room mini-fridge for you to warm when you arrive.
Q: What if I can self-monitor? Do I still need to fill out a Medical Diet form?
A: If your food needs are not life-threatening, and you would like choose from the presented courses, you do not need to fill out a Medical Diet Request Form. If you are not sure, email Becky Headrick/Food Services Director to discuss menus before your stay. Do not wait until you arrive to learn if the menu is safe for your allergies, we may not have alternative items on hand.
Q: How is the menu for a picky eater?
A: Menus are very tasty and uncomplicated, with most components separated so you can take what you like. In the dining room, there is always a snack basket available, and hot or cold cereal during breakfast.
Q: Is it less expensive to skip a meal?
A: No. Your pricing includes the cost of all meals.
Q: Can we request the menu?
A: Groups are welcome to request specific dishes, or to specify their entire group is vegetarian, nut-free, kosher, Lent observant, or youth-friendly. Final menus are at the discretion of the Food Service Director and will be based on seasonal availability, group size, and variety. The Kitchen strives to provide a variety of main and side dishes.
Q: Can Tilikum provide snacks, as well?
A: Yes! For an additional charge, the kitchen can provide a variety of snacks for mid-morning, afternoon, or after-dinner snacking. The most popular snack choices are s'mores, popcorn, cheese and crackers, fruit platters, veggies and hummus dip, and cookie trays. We always stock ingredients for medical diet s'mores, including gluten-free grahams, dairy-free milk chocolate bars, and gelatin-free marshmallows.
Traditional menu items can include
For breakfast
bacon or sausage
scrambled eggs
cornbread or muffins
fresh fruit
biscuits and gravy
10-grain hot cereal or steel-cut oatmeal
For lunch
chef salad with variety of soups
rice bowls or pho soup
potato bar w/chili
burrito bar
For dinner
roast beef, baby potatoes, seasonal vegetable,
pork tenderloin with apple compote
ginger chicken
For dessert
baked goods like cakes, cookies, muffins and brownies
key lime pie or cheesecake
berry cobblers
Medical diet requests

Food Service can accommodate your medical diet request if you let them know two weeks in advance of your scheduled event at Tilikum. There is an additional charge of $1 per meal per person due to the increased cost of food. Medical diet requests should be filled out online. Ask your group coordinator for your group's medical diet link.
We look forward to serving you delicious meals!
How to contact
We welcome the opportunity to discuss menu ideas for your next event. Email Becky Headrick/Food Service Director.
For rate information, to schedule a tour, or to book your next event at Tilikum, contact Suzanne Maki/Guest Services Director.
Tilikum is passionate about good food

Contact Guest Services about feeding your hungry group.
Click the icon above to email Suzanne Maki/Guest Services Director.
Becky Headrick is the Food Services Director at Camp Tilikum.

What guests say about Tilikum's food service

Ask about getting your copy of the 2019 Camp Tilikum Cookbook.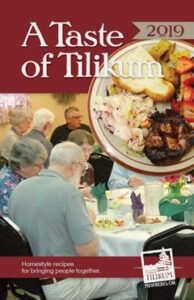 $14.99 + shipping.
To receive your copy, email Suzanne Maki/Guest Services Director.
A recent guest group letter
Click on the original letter.