2021 was Camp Tilikum's 50th Anniversary.
Celebrating 50 years of service.

Labor Day, September 6, 2021

A 50th Anniversary celebration here at Tilikum

2021 was Tilikum's 50th Anniversary so we invited past campers, guests, volunteers, and staff to come and celebrate. The event included a special Summer Staff reunion. It was a day of fun, food, and activities to commemorate these 50 years of service and thank everyone who has contributed to the ministry.
Schedule of events.
Here's how the day went.

  9:00AM – Former Staff Reunion
11:00AM – Everyone else arrives at Tilikum
11:15AM – 15 minute presentations begin at the Fawver Center. Lunch tickets distributed.
11:30AM – 1:00PM – Lunch on the lawn in front of Tilikum Lodge
  1:00PM – 4:00PM – Activities on the grounds (includes canoeing, swimming, Big Swing, etc.)
  4:30PM – Depart for home
And yes, there was a scavenger hunt.
50th Anniversary event photos gallery
"To the God who upholds all things, and sends His rain and His sunshine upon all, who chose to be so kind and good to us, we offer our worship, praise, and thanksgiving."  – E. Russell Baker, Donor of the Tilikum Property
A message from the Director.

Russell Baker's grandfather purchased this property in 1902. Since then it has seen floods and high winds. Although it survived the Columbus Day storm of 1962, the dairy barn across the road belonging to Russell and Irene Baker did not.
Such a loss should have been devastating but it was not. The Bakers demonstrated faithfulness and stewardship to God as they rebuilt the barn, recovered from their losses, and then donated their home and 92 acres of property to be used for the glory of God.
Russell and Irene left us a legacy. It was not simply a legacy of property but an example to us through the way they lived their lives to glorify God. In the past 50 years, thousands of people have experienced that legacy at Tilikum and it is our hope that they leave with a portion of it to grow and nurture in their own lives.
I invite you to join us as we celebrate these past 50 years by remembering the legacy they left to us, and then by giving praise and honor to the Lord whom it glorifies. Thank you to all who have been a part of this ministry.
50 years of service!
Providing a place for you to experience creation, build community, find refuge, encounter God, and see lives transformed.
See a gallery and list of former Summer Staff.
Show me the history!

Discover the history of Tilikum. [CLICK HERE].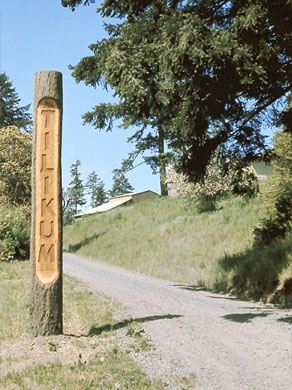 See historic photos.
For Tilikum history photos 1912-1990 [CLICK HERE].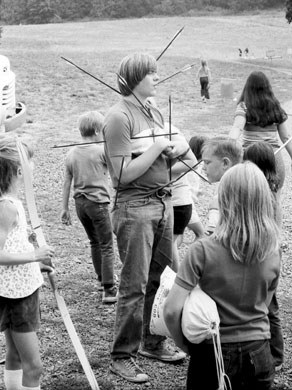 "Okay campers, let's try this again. Everyone step back to the line and point at their targets, okay? Point to your target!"