Reviewing Tilikum's 2022 49th annual Potlatch celebration.
Potlatch is a fundraising event to celebrate and support the ministry at Camp Tilikum.
For the third time in recent years, Potlatch was held for two nights at Tilikum in the recently upgraded Fawver Center.
The Potlatch events on October 5 and 6, 2022 were so encouraging! All together there were 107 people in attendance (35 new). This is a 55% increase from last year! As a result of this year's banquet (with gifts and 3-year pledges) more than $71,000 was raised. I believe this is the second most received at any Potlatch! Two new families included Tilikum in their estate planning, for a total of 29 families, and 325 families are praying for Tilikum on a regular basis!
Thank you for supporting the ministry at Camp Tilikum with your prayers, volunteer groups, and financial support. You help make Tilikum a place where deep connections with God, nature, and others are possible.
View the Potlatch 2022 presentation slide deck

.
Interested in sponsoring the next Potlatch event?
Sponsor gifts go a long way towards offsetting the cost of the Potlatch event itself so that all funds raised go directly to financing the mission. As a sponsor, your corporate identity would be prominently displayed in the slide presentation and on the Tilikum website. If you would like to sponsor the 2022 Potlatch Celebration, email Dennis Littlefield/Executive Director, or call (503) 538-2763, ext. 103.
This year, Northwest Fresh Seafood generously contributed with a full complement of salmon for Potlatch attendees. For Northwest Fresh Seafood, "'success' is being radically fresh, radically fun and radically generous. These values shape who we are and what we do everyday." Visit Northwest Fresh Seafood at 611 N. Main St, Newberg, OR 97132, or call (503) 538-4555.
View the 2019 Summer Camp video
View the Potlatch 2022 presentation slide deck

.
Watch the 2019 Camp video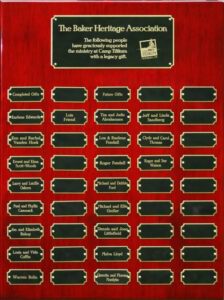 Consider making Tilikum a part of your estate plan.
Join the Baker Heritage Association. Email Dennis Littlefield/Executive Director, or call Dennis at (503) 538-2763, ext 103.